FG-4 PET Bottle Blow Molding Machine 
Faygo Union Machinery developed China first high speed linear blowing machine: FG series bottle blowing machine, whose single-mold speed can reach 1800~2000BPH. FG series bottle blowing machine include three model right now: FG4 (4-cavity),FG6(6-cavity),FG8 (8-cavity), and the max speed could be 13000BPH. It is developed totally independently, has our own intellectual property rights, and has obtained more than 13 national patents.

FG series bottle blowing machine is a completely new generation of linear blowing machine, distinguished by its high speed, low power and low compressed air consumption, featured by the excellent structure design, small space occupation, less noise and high stability, meanwhile conforms to national beverage sanitary standards. This machine symbolizes the highest level of national linear blowing machines. It is the ideal bottle making equipment for medium and large enterprises.
FG Series Product Advantages:
1. Servo driving and cam linking blowing section:
The unique cam linking system integrates movement of mold-opening, mold-locking and bottom mold-elevating in one movement, equipped with high speed servo driving system which greatly shorten the cycle of blowing and increase the capacity.
2. Small performs distance heating system
Heater distance in the heating oven is reduced to 38mm, compared with the conventional heating oven it saves more than 30% electricity consumption.
Equipped with the air cycling system and redundant heat discharge system, it ensures the constant temperature of the heating zone.
3. Efficient and soft perform inlet system
By rotary and soft preform inlet system, the speed of prefom feeding is ensured meanwhile, the preform neck is well protected.
4. Modularized design conception
Adopting modularized design concept, to make it convenient and cost-saving for the maintenance and changing spare parts.
FG Series Optional items:
1. Exploded bottles ejection unit
During the blowing process, if the bottle burst, bad bottles can be automatically removed. This prevents the bad bottles from entering the filling machine.
2. HP air recovery system
After the bottle blowing, high-pressure air can be recycled and used again for the pre-blowing and machine physical movement.
3. Oven and preform temperature detection system
Detection system detects temperature of oven and the temperature of performs. When the preform temperature does not reach the set blowing temperature, blowing workstation will alarm, not blown.
4.Equipped with remote monitoring system
Engineers in China headquarter can check the data collected and sent by the PLC anytime with the mobile ,feedback will informed to the client's site if something abnormal ,give the machine 24 hour'baby care in the cradle.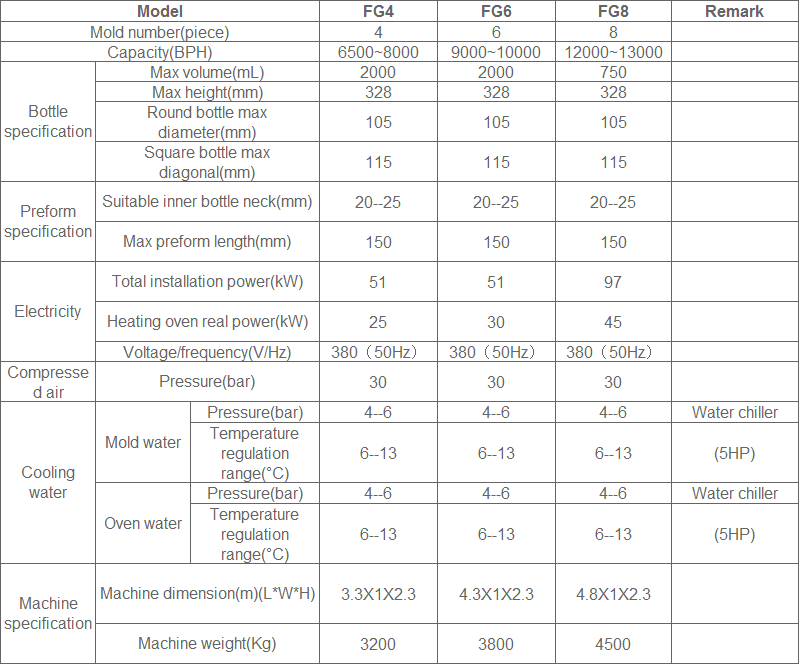 Note: the parameter above is based on the 17 grams of 500mL PET bottles. If the bottle conditions change, the corresponding parameter will change also. With the development and innovation of technology, the data above may be changed or improved, so it is for reference only. For precise and detailed data, please consult our technical department.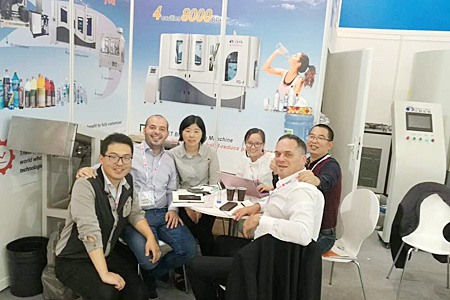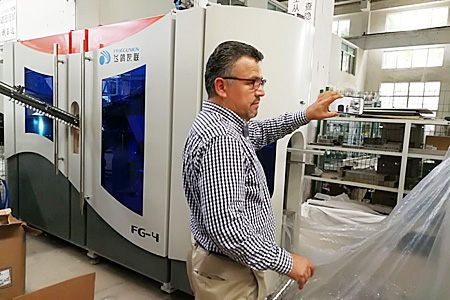 High Speed Bottle Blowing Machine >
---
PE/PP/HDPE Blow Molding Machine >
---
Plastic extrusion machinery >
---
Filling Machine >
---
Air Compressor >
---
Food And Beverage Packaging >
---
Plastic Recycling Line >
---
Other equipment >
---

---
---
---