PET Bottle Blow Molding Machine 
Faygo Union Machinery developed China first high speed linear blowing machine:FG series bottle blowi···
Faygo Union Machinery developed China first high speed linear blowing machine:
FG series bottle blowing machine, whose single-mold speed can reach 2500~3000BPH. FG series bottle blowing machine include three model right now: FG4 (4-cavity),FG6(6-cavity),FG8 (8-cavity), and the max speed could be 15000BPH.
High-speed machine FGX series blow molding machine, single-mode speed can reach 2500~3000BPH. FGX series blow molding machine currently includes three models: FGX4 (4 cavities), FGX6 (6 cavities), FGX8 (8 cavities), the maximum speed can reach 20000BPH.
This series of models mainly produces PET plastic bottles, pure water, mineral water PET bottles, and beverage bottles
It is developed totally independently, has our own intellectual property rights, and has obtained more than 13 national patents.
FG series bottle blowing machine is a completely new generation of linear blowing machine, distinguished by its high speed, low power and low compressed air consumption, featured by the excellent structure design, small space occupation, less noise and high stability, meanwhile conforms to national beverage sanitary standards. This machine symbolizes the highest level of national linear blowing machines. It is the ideal bottle making equipment for medium and large enterprises.
FG Series Product Advantages:
1. Servo driving and cam linking blowing section:
The unique cam linking system integrates movement of mold-opening, mold-locking and bottom mold-elevating in one movement, equipped with high speed servo driving system which greatly shorten the cycle of blowing and increase the capacity.
2. Small performs distance heating system
Heater distance in the heating oven is reduced to 38mm, compared with the conventional heating oven it saves more than 30% electricity consumption.
Equipped with the air cycling system and redundant heat discharge system, it ensures the constant temperature of the heating zone.
3. Efficient and soft perform inlet system
By rotary and soft preform inlet system, the speed of prefom feeding is ensured meanwhile, the preform neck is well protected.
4. Modularized design conception
Adopting modularized design concept, to make it convenient and cost-saving for the maintenance and changing spare parts.
FG Series Optional items:
1. Exploded bottles ejection unit
During the blowing process, if the bottle burst, bad bottles can be automatically removed. This prevents the bad bottles from entering the filling machine.
2. HP air recovery system
After the bottle blowing, high-pressure air can be recycled and used again for the pre-blowing and machine physical movement.
3. Oven and preform temperature detection system
Detection system detects temperature of oven and the temperature of performs. When the preform temperature does not reach the set blowing temperature, blowing workstation will alarm, not blown.
4.Equipped with remote monitoring system
Engineers in China headquarter can check the data collected and sent by the PLC anytime with the mobile ,feedback will informed to the client's site if something abnormal ,give the machine 24 hour'baby care in the cradle.
Note: the parameter above is based on the 17 grams of 500mL PET bottles. If the bottle conditions change, the corresponding parameter will change also. With the development and innovation of technology, the data above may be changed or improved, so it is for reference only. For precise and detailed data, please consult our technical department.
13 national patents
FAQ
1.Your company is a trading company or a direct factory?
We are a direct factory located in Zhangjiagang City. Very close to Shanghai and Wuxi (airport and train provided). If you arrive in Shanghai or Wuxi, we can pick you up to visit our factory.
2.If we buy your machine, what is your guarantee or guarantee of quality?
We provide you with high-quality machines with 1-year warranty and lifetime technical support.
3.How to ensure the safety of your funds and deliver on time?
1/Through Alibaba's letter guarantee service, it will ensure on-time delivery and the quality of the equipment to be purchased.
2/Through the letter of credit, you can easily lock the delivery time.
3/After visiting the factory, you can ensure the authenticity of our bank account.
4.How to ensure the quality of the FAYGOUNION machinery!
1/In order to ensure the accuracy of each part, we are equipped with various professional processing equipment, and we have accumulated professional processing methods in the past few years.
2/Each component before assembly needs to be strictly controlled by inspectors.
3/After all equipment is completed, we will connect all machines and run the entire production line for at least 12 hours to ensure the stable operation of the customer's factory.
After Sales Service
1.Installation, debug We will arrange seasoned technician for debug and test production at the same time make the equipment reach the rated producing capacity of the line.
2. Training
Our company offer technology training to customer. The content of training is structure and maintenance of equipment, control and operation of equipment. After training, the technician of buyer could master the operation and maintenance, could adjust the process and treat different failures.
3.the Standard service
1'We can send you the video of the running machine.
2'You are welcome to come to visit our factory,and see the machine running.
4.We can design the machines according your requirements,at the same time we will give you our professional suggestion,as you know,we have been in this industry for 22 years.
5.well-trained & experienced staff are to answer all your inquiries in English and Chinese
6 .12 Months guarantee and life-long technical support.
7.Your business relationship with us will be confidential to any third party.
8. Good after-sale service offered, please get back to us if you got any questions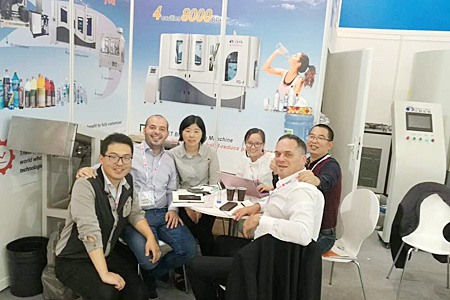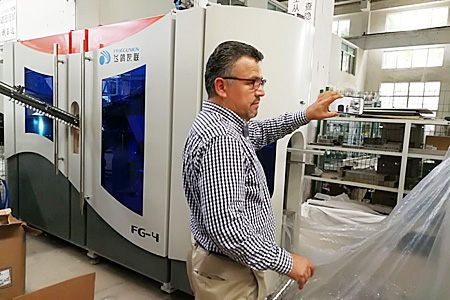 High Speed Bottle Blowing Machine >>
---
PE/PP/HDPE Blow Molding Machine >>
---
Plastic extrusion machinery >>
---
Filling Machine >>
---
Air Compressor >>
---
Food And Beverage Packaging >>
---
Plastic Recycling Line >>
---
Other equipment >>
---

---
---
---